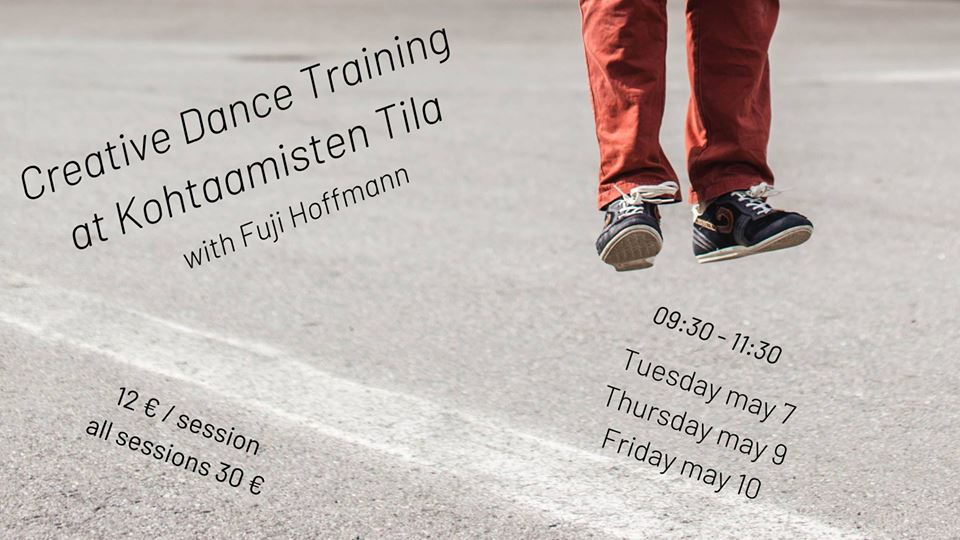 Creative Dance at Kohtaamisten Tila with Fuji Hoffmann (S)
a movement session where we dance with our brains, practice our creativity and train our bodies.
Keywords are
¤ movement¤
¤ Imagination ¤
¤ fun ¤
: )
The session will include warm ups. Guided improvisations to work with technique Introducing various coordination possibilities for the brain and body. Choreographic / Composition games, and cool down.
Everyone with a interest in movement is welcome to join entusiasts and professionals.
if you have any functional variation you think I should know about please feel free to contact me
Creative Dance Training is a headline for a combination of methods Fuji has encounter and integrated through the years. He is inspired by Ann Green Gilberts method Brain Dance
Fuji is a Choreographer and Visual artist who started teaching in Wiks Folkhögskola 2013. He graduated from Danish National School of Performing Arts Dance and Choreographer Line 2015
more information www.fujihoffmann.com
or questions Fujihoffmann@gmail.com
the session is 120 min
12 € per class
or 30 € for all three
Hope to see you!